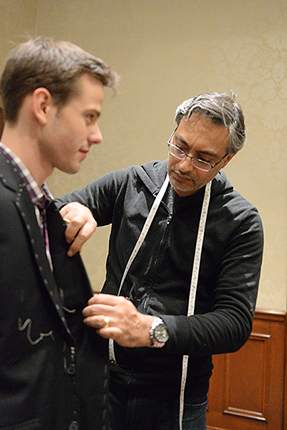 Chans Tailor, a Bangkok based clothing company, has an international reputation for producing the finest handmade clothes. We offer a friendly, professional service and will provide you with expert advice based on more than 25 years of experience.
We make custom clothing from a unique pattern created for each client to ensure a perfect fit. Our clothes have more details than any other custom clothier, an indication of the craftsmanship and attention afforded to each piece.
Chans Tailor makes a large range of garments for Gentlemen and Ladies in styles, fabrics and colors to express your personal style.
From the comfort of your home, you can have your personal custom tailors designing your custom clothing through our website, with you don't need to travel overseas. With our website, we bring our store to the world with an easy and cost effective as well as time saving way to access our products. The site is designed in a way that the client can create his or her own wardrobe to reflect his or her very own personal style, color, and fabric.
Not just making suits and shirts for our Bangkok customers, we visit cities in United States on regular basis. Kindly contact us by checking our travel schedule to arrange a meeting.
"The suit and the shirt make the man, right?" Curci said. "And no one does it like Chan."