IN THE PRESS
Far East tailoring services come to midstate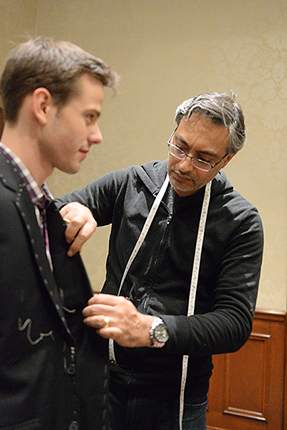 Sure, he could take his own measurements, or he could go to a local high-end tailor shop and have them custom fit his outfit.
But for Michael Curci, who works in treasury services at Fulton Bank in Harrisburg, it just doesn't work as well as when "Chan the Shirt Guy" visits Harrisburg and does it for him.
"The suit and the shirt make the man, right?" Curci said. "And no one does it like Chan."
Curci and a group of Harrisburg-area professionals have become a regular stop on the American tour of Prateep Sachthep, a men's tailor from Thailand who tours the United States three to four times per year to sell his finely made clothes.
Sachthep comes to the group — which numbers anywhere from 10 to about 30, depending on schedules — and takes their measurements or brings up the measurements of repeat customers on his computer. Then he allows the men to choose from his color and material samples and ships the custom-made suits to them.
While Harrisburg might sound like a odd stop on Sachthep's East Coast tour that otherwise includes New York City, Baltimore and Washington, D.C., he's been coming to the region for about four years, and the group continues to grow.
For the first time, Sachthep's stop in early March was at the Harrisburg Hilton, put together by its general manager, Joe Massaro. And it was Massaro's suits that caught the eye of first-time customer Michael Boyer, a financial representative for Modern Woodmen Fraternal Financial in Hershey.
"I always saw Joe's suits, with the monogrammed cuffs, and I always wanted to know where he got them," Boyer said. "He told me about Chan, and I wanted to try it out."
Michael Wilson, a partner in the The Vineyard and Brewery at Hershey, was one of the people who started bringing Sachthep to the region, and he has hosted private tailoring sessions at his home. He said Top Shelf Menswear in New Cumberland will soon be an authorized seller of Sachthep's clothing.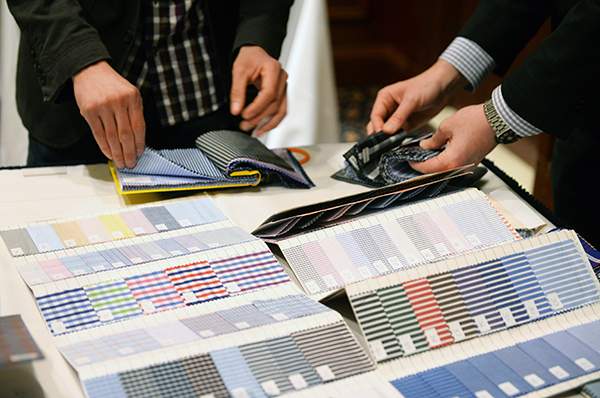 Sachthep takes measurements for a custom suit for Nick DiFrancesco. Three to four times a year, the men's tailor from Thailand brings his tailoring services to the U.S., with stops that include Harrisburg.